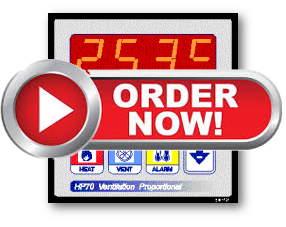 Identifies the
complete code
of the module
to be ordered
with
any
HP
variants.
Please note: unless otherwise specified module HP comes standard version panel mounting with power supply 230Vac.
Table to identify the code of the module HP to order

HP

XX

/W

/TTL

12DC

24DC

24AC

115AC

230AC

*1

*2

*3

*4

*1) Select the model required (example HP75). The symbol identifies the 230Vac standard model, panel version DIN 96.

*2) Option /W identifies the wall model IP54 (otherwise it is the panel version to DIN96)
For example, if you wish to order a wall HP75 module, the code will be HP75/W.
*3) A serial plug TTL is available for the models where it is not standard (see the table on the HP MAIN PAGE under "serial TTL plug").
*4) Unless otherwise specified, the HP module is supplied standard with 230Vac rating.
Specify in the order any power voltage other than the rated one, according to this table.
Order example:
If you wish to order an HP75 230Vac panel model, the code is HP75.
If you wish to order the same model but in the wall version IP54 and 24Vac power voltage, the code is HP75/W/24AC.