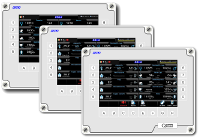 The
Q line
products are composed of
a central unit
, which is the main element of the system, display (7") 65536 colors resolution WVGA 800x480 dots with backlit with LED lamps that provide excellent visibility in all light conditions.
The user interface is simple and immediate: the keyboard easy touch combines the immediacy of a touch screen system, the mechanical strength and maximum protection and the impermeability of a polycarbonate keyboard (IP54). Each screen function keys take on a different graphic, allowing easy and immediate use of the program: the steps of the program are accompanied by help screens, so that the use of the program does not require consultation of the manual.
Easy touch allows immediate use of the program.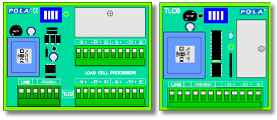 peripherals
, connected to the Central Unit via a RS485 communication protocol used to acquire the sensors and to drive outputs that make the drives' s plant.
---
The Qfarm can manage up to 112 inputs, 108 On-Off outputs and 44 0-10V outputs. Qfarm Lab programming software has a step-by-step procedure with graphics and notes which enables you to define and configure the working parameters of the house.

Qpigs
manages the control of pig feed with dry feed, distributing the quantity of daily feed (rationed or at will) at certain times of the day which is determined according the feed curve.
The management of the feed weight in distribution is carried out by detecting the weight of the silos (up to 8 silos): the loading of the silo is automatically recognized, by pausing the feed distribution and recording all the data of the silo load (date and quantity of feed loaded) , and resuming the distribution when the silo load is completed.